CDB Series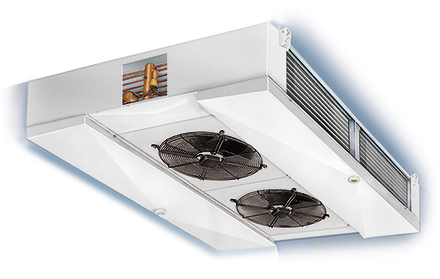 CDX/CDB is a dual-discharge high-performance unit and air cooler series for cold rooms in industrial and commercial applications. The series consists of 112 models from 8,6 to 125,1 KW and are used in applications with all existing cooling medias and refrigerants (DX) also including CO₂ and Ammonia. The series is available in a low-noise and low-energy model and also a slim model with building height 395mm.
High quality Steel Casing in C4
The casing is made from galvanized Steel with a powder coating of Epoxy-Polyester fulfilling corrosion class C4. This makes it very resistant against corrosion and also very easy to keep clean.